Stand Up and Tote Notice
I have been carrying this bag everywhere and it is every bit as awesome as I thought it was going to be. Seriously, if you haven't made one yet….DO IT!!! Everybody needs this bag.
This pattern is a little more complex than what I've dealt with in the past, but Lisa's instructions were so clear that I had no issues at all. I will admit, my machine had a little hissy fit, but that is because she's due for a service and no fault at all of the bag or pattern.
The pattern is as wonderful as the last. Clear, concise instructions with great photos showing you each step in detail. It is listed as an Intermediate level and I think that is a fairly accurate assessment. It wasn't difficult as such, but there were a few sections that might be frustrating for an absolute beginner. Of course, that doesn't mean you shouldn't jump in and give it a try (Hey, I did!) but be prepared for something beyond your standard tote bag with a bottom and two side seams.
Top flap with mesh, zipper pocket
The bag itself is just as awesome as the pattern. I made the small and it is perfect for us. It has a great mesh pocket in the lid, with the snazzy little hook to hang it over a door handle or towel rail (I love this feature).
There's a cute little front pocket...
Front Pocket
...and the main compartment is a terrific size for storing all your toiletry needs.
A spacious main compartment makes this the perfect toiletry bag
I can't wait to take this on holidays with us. In fact, I see me making a few for Christmas gifts too.
Keep an eye on the Two Pretty Poppets Facebook page and blog for the Hang About Toiletry Bag Sew Along due to start next week. I hope to see you there as I tackle my second toiletry bag.
If you're looking for the hardware for your toiletry bag (or some of the other great Two Pretty Poppets bags) be sure to check out Handbag Hardware Australia. They have a terrific range of high quality kits available that have been put together specifically for these patterns. They're also wonderful supporters of Australian business and I can't recommend them highly enough.
You can find their Aussie designer kits here:
Handbag Hardware Australia: Aussie Designer Kits
and their main store here:
Handbag Hardware Australia
.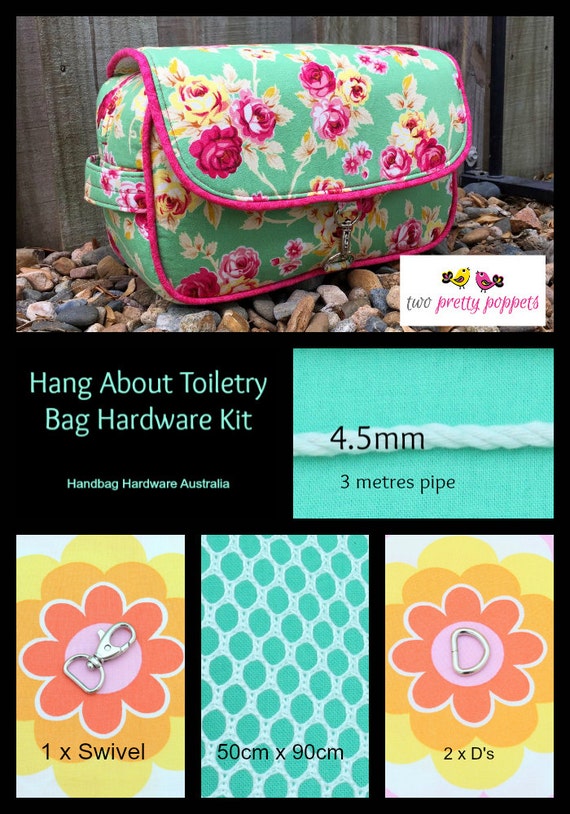 How seriously awesome is this kit!!!