This week I am taking a different approach with the
I Support Local
series as I review a very talented Australian designer, creator, cuteness-overload expert and all round good guy: Lauren from
Molly and Mama
.
If you follow me on Facebook or Instagram then it will come as no surprise that I have a little bit of a big girl crush on Lauren. Well maybe not Lauren herself, though I'm sure she's very nice, but I do love her applique patterns and tutorials. Imagine my delight when she so kindly sent me her Percy Pineapple Applique Pattern for review.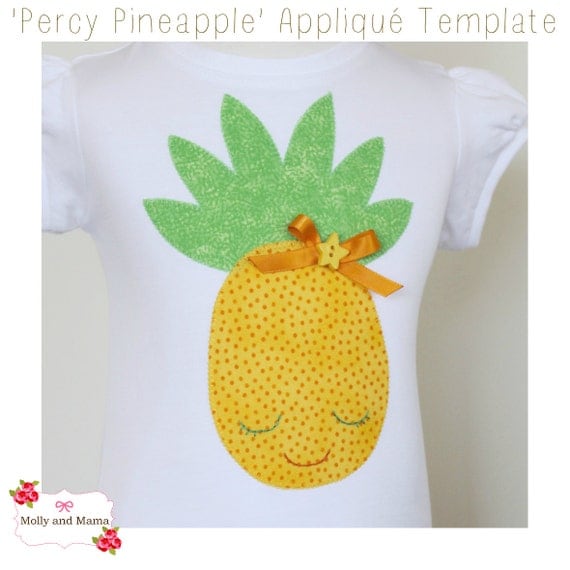 Although the pattern is shown on a t-shirt, I thought this little guy would look great on a cushion. Given that Poppet is yet to put said cushion down, I imagine Percy will also be finding his way onto a t-shirt, dress, skirt, bag and whatever else I can get my hands on.
As soon as I read the pattern I knew I was onto a winner. The instructions are clear and concise with some great hints and tips. I'm not all that experienced with applique so I also found the photos to be a great help along the way.
I chose to hand stitch mine, though the pattern has detailed instructions on how to do this with your trusty old sewing machine.
Making a start on my hand stitching.
This was the first time I had really embroidered anything so I'm pretty happy with the results. I think Percy looks very peaceful.
My first real embroidery attempt.
It didn't take long to get into the swing of things and finish Percy off. A quick border of half-square triangles, some quilting and binding and Poppet found herself a lovely new friend (or so she calls him).
Percy Pineapple enjoying his new home.
I was so impressed with Lauren's pattern that I raced out and bought two more. She has a great range in her Etsy shop and I highly recommend checking them out:
Molly and Mama Etsy Shop
.
Some great new projects coming my way.
Lauren also has some great tutorials on her
blog
, including a few I will be tackling for Easter. The
Easy Felt Bunny Tutorial
was just too quick and easy to pass up.
I only had bright coloured felt but I think they're going to look fantastic. A great addition to our reduced chocolate Easter.
Cute little bunnies.
I will also be following the
Applique a Bunny for Easter
tutorial to whip Poppet up an adorable Easter t-shirt.
All in all I had a fabulous time reviewing Percy Pineapple and will definitely be recommending Molly and Mama patterns and tutorials to anybody willing to listen (and maybe even those that aren't).